Happy freaking Thanksgiving to us! Dolly Parton is coming to Netflix in a new series called Heartstrings. And yes, you'll hear all about that infamous red-headed, emerald-eyed, man-stealer Jolene.
Starting on November 22, Netflix will offer us eight episodes, each one based on a Dolly Parton song. Each episode is promised to be unique in tone, ranging from a family drama, a western, to a revenge comedy.
And just when you think it can't get even more amazing, some of the characters are played by our favorite actresses. We'll see Ginnifer Goodwin, Melissa Leo, Delta Burke, and Kathleen Turner. And of course, there's also Dolly herself. And yes, we're on a first name basis here because this is Dolly, after all.
I've been a Dolly fan ever since I was in the fifth grade and my best friend's mom let us watch Steel Magnolias while eating nachos. I was enamored by her warmth, unapologetic standard of beauty, and confidence. She was the best girlfriend you could ever wish for—with her infectious laugh, bold fashion style, and Southern charm.
Dolly is so damn successful because not only is she an incredible song writer, performer, and actress—but no one can hate her. She's an unapologetic supporter of the LGBTQ community and isn't afraid to poke fun at herself. During numerous interviews, she jokes about her affinity for plastic surgery, saying if it's "sagging, bagging, or dragging'" she's going to get it "sucked, plucked, tucked." Her you-do-you attitude is downright contagious.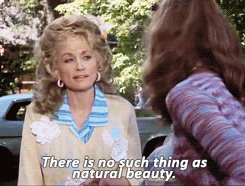 She's also one of the humblest celebrities. She's been married over fifty years and met her husband in a laundromat in Nashville. She often talks about her childhood, growing up as the fourth of 12 children in rural Tennessee. Her love of music started in church. Later, she chose to build Dollywood in the same community she grew up in. Y'all, Dolly gives back.
Dolly's program, Imagination Library, has mailed over 126,000,000 books to children regardless of their family's income. The program began in 1995, sending books to children living in the county where Dolly grew up. By 2003, a million books were sent to children, and soon the program expanded to sending books nationwide and then worldwide.
Don't mistake her sweet nature to mean she's not also smart as hell. Early on in her career, Dolly made sure she held all the publishing rights to her songs, earning millions of dollars in royalties over the years. In 1992, Dolly did something rare, granting Kevin Costner permission to use her song I Will Always Love You as the acapella opener for The Bodyguard starring Costar and Whitney Houston. Dolly noted that the first time she heard Whitney's rendition of the song, she was in her car and nearly wrecked it. The movie soundtrack became the bestselling of all time.
I wish you joy and I wish you happiness

pic.twitter.com/J6Yzao37dV
— Dolly Parton (@DollyParton) October 24, 2019
Yes, Dolly is our favorite feminist badass in 9 to 5 and rival choir director in Joyful Noise—but she's so adored that movies have been made about her. In The Year Dolly Parton Was My Mom, a young child imagines that Dolly is her birth mother. And in Netflix's hit movie Dumplin', a teenage girl learns to grieve the loss of her aunt and take on new challenges—including participating in the beauty pageant her mom runs. What carries these two young women through their pain? Dolly. Always, Dolly.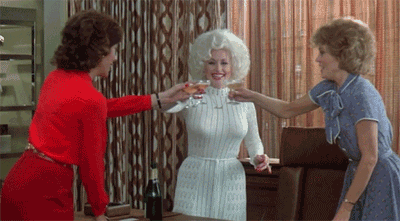 Heartstrings promises us some warm-fuzzies while we learn about the stories behind Jolene, Two Doors Down, and Sugar Hill—but we're going to get new Dolly music, too. Truly, this is mind-blowing considering Dolly has already written or performed over eight hundred songs. Yes, as in 8-0-0.
Dolly shines as bright as her shirt's rhinestones–not only as a business woman, song writer, and performer–but she's also Miley Cyrus' godmother. And, Dolly has been nominated in all four major American entertainment award categories—an Emmy, Oscar, Grammy, and Tony — because she's the icing on her own ten-tier cake.
View this post on Instagram
Squad goals

Why do we love Dolly so much? It might be because her acrylics, unapologetic ensembles, and big hair is so different and bold. Personally, I'm a top-knot wearing, minivan driving, (lukewarm) coffee sipping mom of four. But even if we're total opposites in lifestyle, Dolly has been there since we were kids—in movies and music. She's familiar. She's safe. She's, well, Dolly.
I can't wait to binge Heartstrings and see what glittery new magic Dolly bestows upon us. With all the political atrocities going on in the world—along with the everyday, real life parenting challenges—I'm more than ready to bask in Dolly's sunshine. Until then, scroll through her Instagram. The throwback photos will bring you all the joy.
View this post on Instagram
Happy birthday, Heartbreaker!

Pour the wine, pop the popcorn, and grab your favorite cozy blanket, because Dolly is about to give us all the warm fuzzies we need to get into the holiday spirit.
The post A New Dolly Parton Show Is Coming To Netflix appeared first on Scary Mommy.
Read more: scarymommy.com