Jordyn Woods is making her comeback strong as ever following the huge scandal surrounding her allegedly hooking up with Tristan Thompson, Khloé Kardashian's baby daddy!
On Friday night, the 21-year-old stepped out with momager Elizabeth Woods and some friends to hit up Craig's in West Hollywood! And Jordy was dressed for the night out, rocking a black velvet jacket worn with just a bra underneath and the matching shorts, tights, and black heels!
Related: Khloé Kardashian Writes Lengthy Post On 'Letting Go' Amid Cheating Drama
Is she trying to put her former bestie Kylie Jenner's latest Instagram posts to shame?? It seems like she's at least attempting to…
Meanwhile, an eyewitness spoke to Us Weekly about Woods' public sighting, saying the young star was "with a huge group of people."
"She walked in confidently, and paparazzi bombarded her. [She was] with her mom, a couple girls and guys."
And the insider added that the model looked "great" as she greeted their group:
"Her mom and her kissed their friends hello, saying they're just calming down from all the paparazzi."
The onlooker continued about the paps, saying:
"They asked her if she's spoken to Kylie [Jenner] or Khloé and she didn't answer, but just kept walking and smiling."
After hyping up her interview with Jada Pinkett Smith for Red Table Talk, Jordyn knows better than to spill all the tea to some rando paparazzi!
Related: EXCLUSIVE! Jordyn's Team 'Begged' For Her To Be Hired As DJ At Coachella
Although, she did share a peek at her outing by posting her look to IG (feature up top), only captioning it:
"
"
Clearly the former Kardashian-Jenner insider wants to get her followers excited for her upcoming collabs and deals. It was also just on Thursday that she teased she'll be heading to London to promote her Eyelure eyelash collection.
See the post (below):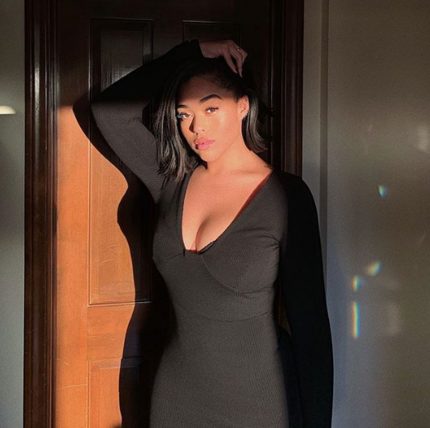 "I am so excited to come to London next week to celebrate my @eylureofficial lash collection launching exclusively in @superdrug
All three lashes will be available in stores on the 25th of March!" / (c) Jordyn Woods/Instagram
Additionally, the controversial star took to her social media account to tease her upcoming appearance in a new music video.
According to E! News, Jordyn stars in 16-year-old Justin Roberts' video for Way Too Much, along with another social media influencer, Sofia Jamora.
It's said to be an homage to the consequences of finding fame, something we think Woods knows a little about, and is set to release on April 12.
Guess we'll have to wait and see how her gig actually goes, but until then, you can see her sneak peek (below)!
View this post on Instagram
Thoughts??
[Image via Jordyn Woods/Instagram]
The post Jordyn Woods Flashes Cleavage To Celebrate Her Comeback Amid Cheating Scandal! appeared first on Perez Hilton.
Read more: perezhilton.com