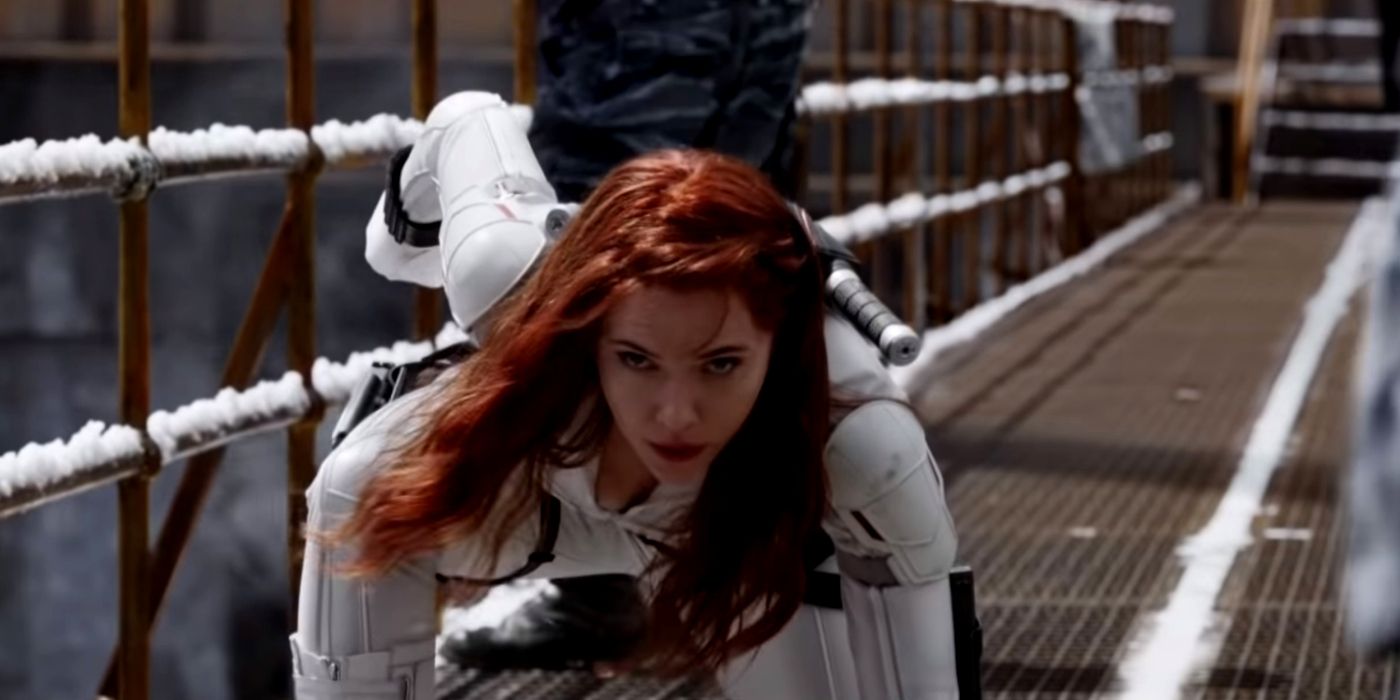 New footage of Marvel's upcoming Black Widow film was unveiled at this year's CCXP convention in Sao Paulo, Brazil, earlier today, alongside some plot details and a striking new poster. Ever since she made her cinematic debut in 2010's Iron Man 2, fans have been clamoring for a standalone outing featuring Scarlett Johansson's Natasha Romanoff, and now with Avengers: Endgame behind the MCU and Phase 4 on the horizon, they are finally getting it.
Filming began in February of this year and a formal announcement of the cast was made at 2019's San Diego Comic-Con alongside other anticipated films in the upcoming Phase 4 of the MCU. The movie is confirmed to be a prequel in light of Natasha's death during the events of Avengers: Endgame, set between Captain America: Civil War and Avengers: Infinity War. Black Widow will once again star Johansson as the titular super-spy, as well as newcomers Florence Pugh as fellow Black Widow Yelena Belova, Rachel Weisz as former spy Melina, and David Harbour as Russian superhero Alexei Shostakov/Red Guardian.
Related: Black Widow's Villain Can Connect With Falcon & Winter Soldier
According to several eyewitnesses, new footage of Black Widow was shown at the CCXP event, with Omelete (roughly translated) describing the footage as follows: In the beginning, Red Guardian struggles to put his old uniform on. The retired hero then heads to the dinner table from the first trailer, where he meets up with Natasha, Yelena, and Melina. Melina tells him that she hasn't washed the costume and that it "smells amazing." "You look awesome," she then adds. It appears she is the mother of this surrogate family, as Guardian rejoices in the fact that said family is together again. "Since we are a fake family, I don't think we can use that term," she tells him, and Natasha and Yelena, the daughters, agree. "You look as beautiful as on our fake wedding day," Guardian assures her, with Melina countering with "And you put on weight."
As the younger girls drink a round of vodka, Melina turns her attention to Yelena. "You had such a big nose," she tells her. "Now it's beautiful." The dinner scene ends with Guardian telling the kids to "listen to your mother!" From there, the trailer cuts to a mix of scenes that were already seen in the previous Black Widow trailer which released earlier this week and a few new shots, finally ending with Red Guardian asking Natasha if Captain America ever spoke of him. He refers to the Captain as "his great adversary," causing Natasha to remark about how "You haven't seen us in 20 years and your first question is about yourself?" Guardian then asks if he just did something wrong as the footage came to an end. During the showing, Collider Editor-In-Chief Steven Weintraub claimed on Twitter the crowd at the event "was so loud I could barely hear dialogue. Footage looks fantastic," and David Harbour "looks awesome as Red Guardian." Afterward, Marvel Studios head Kevin Feige took to the stage to unveil more information about the plot, which he says will explore Black Window's past in Russia as part of the sinister Red Room program, as well as set up plot lines for future films going forward.
There are a couple of interesting aspects and hints to be had with this new footage. From what is shown, Melina and Yelena were a part of Natasha's "family" before the latter left to be a part of SHIELD, which will no doubt lead to some tension given Yelena's noted loyalty to Russia. The far more tantalizing tidbit is Red Guardian's connection to Captain America, and how he considers Steve an adversary. In the comics, he was alive during World War II, and was chosen during the Cold War to become the Soviets' answer to Captain America. While it would seem unlikely the two would have crossed paths due to Steve having been frozen at the time Shostakov was becoming the Guardian, one has to keep in mind at the conclusion of Endgame, Steve chose to remain in the past after returning the Infinity Stones to their rightful place in the timeline, living out his life as if he didn't take that fateful plunge in the Arctic. Hopefully, fans will get an answer to how this came about, as well as more insight into Natasha Romanoff's dark and troubled past, when Black Widow hits theaters next year.
More: How One Marvel Comic Remade Black Widow For The MCU
Read more: screenrant.com