On Modern Family Season 10 Episode 5, a family member dies, and each family member has their way of dealing with the loss.
For as long as I can remember, Halloween has been Claire's favorite holiday. She goes over and above on costumes and decor with her sole purpose to scare the pants off of everyone.
It's the one night she's not serious and uptight. The one night for her to let loose, have fun and thrive.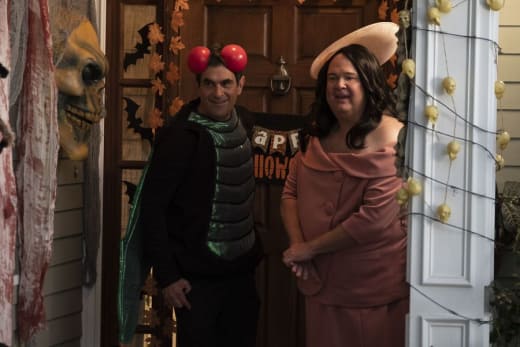 So, what happens? They kill her mother.
Halloween, of all nights.
The timing choice coupled with the fact that Claire was always at odds with Dede makes the impact even worse.
Related: Enjoy UNLIMITED access to thousands of Movies and TV shows with Amazon Prime Video. WATCH ANYWHERE. CANCEL ANYTIME!
It makes sense Claire would feel guilt over the loss of her mother. Who wouldn't? When someone dies, you begin to think of all the woulda, coulda, shouldas. You analyze every interaction, wondering what you could've done differently or what you did wrong in your relationship.
I am totally confused about what we're supposed to do.
Phil
Permalink: I am totally confused about what we're supposed to do.
Added: October 24, 2018
I like the way the writers took Claire through that process.
Here she was talking to her brother who had a great relationship with Dede. Mitch was going on and on about the good times between him and their mother, and you could tell by the look on her face that he was making her feel bad.
It wasn't Mitchell's fault. He had a better relationship with Dede. Plain and simple. Claire did have an interesting point when she told Mitchel this:
Mitchell! Just because mom is dead doesn't mean she was a saint!
Claire
Permalink: Mitchell! Just because mom is dead doesn't mean she was a saint!
Added: October 24, 2018
Lots of people do that. Someone dies and all of the sudden they were terrific and perfect when they were alive. We're told not to speak ill of the dead, but should we lie about them?
Not that Mitchell was lying, but Dede did have her faults. Everyone does. To pretend they don't after they die takes away who they were. It takes away what makes them human and it's wrong.
Related: Modern Family Season 10 Episode 4 Review: Torn Between Two Lovers
If you step back and look at the whole episode, it authentically dealt with death.
Every person dealt with their grief differently, as in real life.
When I heard a significant character was dying on Modern Family this season, I knew it had to be Dede. If they were going to address death, she was the only character they could've killed off and still made it a comedic half hour.
Why?
I know this is going to sound crazy, but I have always worried that when DeDe died she was going to come back and haunt me. Maybe it's because she whispered it to me at my wedding.
Gloria
Permalink: I know this is going to sound crazy, but I have always worried that when DeDe died she was…
Added: October 24, 2018
Dede wasn't a main character, so the impact wouldn't be devastating or change the dynamic of the show.
Also, Dede was a kook. They used her oddness to eek out funny moments and memories in the episode, like the explanation letter Phil read at the end.
The letter included weird things her character would've done.
When Phil and Cam were in West Hollywood eating ice cream, they were sharing stories about Dede. Both of their stories were heartwarming in their own way and listening to them you were nodding your head saying, "Yup, that's totally Dede."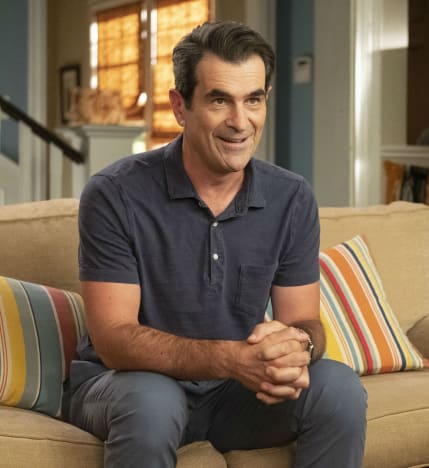 What a surprise that Lily was the one who honored her the most. Dede absolutely would've wanted someone to mess with Gloria after her death. Somebody had to do it. It was a perfect way for Lily to pay tribute to Dede.
The episode was full of real and different reactions to death. Of course, the grieving process has just begun. Not that I want them to dwell and drag it out, but I would like to see Dede's death have an impact beyond this half hour.
Related: Get Great Selection of New & Classic Movies with the Lifetime Movie Club via Prime Video Channels!
Finally — a Modern Family episode where everyone came together. That hasn't happened in quite a while.
Phil: On the trip's final morning, Dede was found in her room. She had apparently passed peacefully in her sleep, as a smile graced her face and her hands clutched ten pages of suggestions for the hotel staff.Claire: That is so mom.Mitch: Easy.
Permalink: Easy.
Added: October 24, 2018
The most surprising reaction came from Jay, which shouldn't have surprised me at all.
We all know Jay is tough on the outside and soft on the inside, but I don't think even he realized how much Dede meant to him.
It makes sense though. Jay and Dede raised a family together as a married couple for a long time.
Regardless of the problems that led to the end of their marriage, they remained friends. There was no animosity between the two, and in recent years they became even closer.
Dede and Jay both reached a point in their lives where the past didn't matter. With age comes wisdom and life is short.
Maybe Dede was a more significant character on the show than anyone realized.
Including me.
I am going to miss Shelley Long on the show. Are you?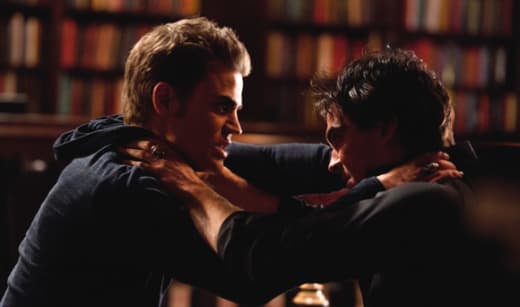 View Slideshow: 15 TV Rivalries That Kept Us Tuning In Again and Again
What do you think, Modern Family fanatics? Were you right on your guess about who was going to die? What did you think about the family's reactions to Dede's death? Do you have any Dede memories to share?
Tell us what you think in the comments.
Have you missed any Modern Family episodes? You can watch Modern Family online here at TV Fanatic.
While you're here, catch up on all your favorite shows and talk to other TV Fanatics who love TV as much as you.
Read more: tvfanatic.com